Updated on 4th April 2020 by Sophia
There is a lot of content online and on social media on how to create PBNs.
Most of it is utter crap.
Most SEOs that have not setup a PBN before do not understand the amount of effort it takes nor the amount of potential risk involved.
Most of the PBN creation guides make it seem like you can create a large network on PBNs overnight for a few measly dollars.
This guide is not like them.
I wrote this guide to help teach our customers how to set up a safe PBN with the lowest risk of being found and subsequently de-indexed. It takes a lot of work, and a lot of money to manage a large PBN. However, if done right, there is no better ROI in link building.
This guide has grown to more than 7,000 words in length over the last few years. If you don't have the time right now, bookmark it for later. However, remember to come back and read it – Trust me – it's worth your time – even if you've built a PBN before.
Feel free to jump to any specific topic using the table of contents below.
What is a PBN?
A PBN (Private Blog Network) is a collection of high authority websites that you have complete control over and all of which link back to your money site.
The money site is a website you own and that you want to help rank better in the search engines
Typically PBNs are created from websites built on top of expired domains that have great backlink profiles. These domains pass high levels of link equity to your money site, through the link and help it rank higher in the search engines.
PBNs are built such that each website in the PBN is not linked/affiliated or shares anything in common with the other websites. None of the websites in a PBN should seem related to the other sites in the same network.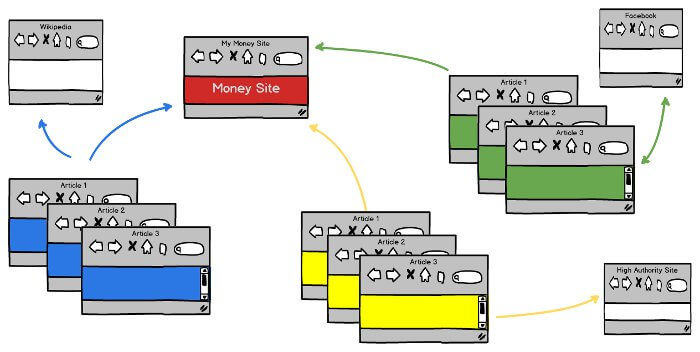 Why do PBNs work?
The most important search engine ranking factor is the number and quality of backlinks that a website has.
In a long enough timeline all content will eventually ends up equal in quality (at least in Google's eyes). At that time the number and quality of backlinks that a website has is the differentiator and will determine whether that website ranks at the top of page 1 or at the bottom.
The bottom line is that if you are serious about ranking at the top of Google, you need a lot of really good backlinks.
PBNs are a shortcut method to acquire high-quality backlinks in large quantities without having to perform the tedious tasks typically done for link building.
They are cheaper, and faster and you have complete control on how many and how often you want your money-site to acquire links.
Why do PBNs work better than white hat link building?
In the white hat methodology, once you have created unique content, you start an outreach campaign to get other authoritative websites to link to your newly created content.
The conversion rate for such campaigns is abysmally low, especially now that outreach can be done in mass with the help of cheap outreach software like GMass and MailShake.
Webmasters of authoritative websites are inundated with hundreds of outreach emails every day. Even if your content is great, unless you have an existing relationship with the webmaster, your email will simply be sent to Trash.
If you want the link without having a relationship with the webmaster then welcome to the "Pay to Play" world. Webmasters are savy to the value of links and now simply ask for a large fee to make it worth their while linking to your website. A single such link can cost you hundreds of dollars.
Another issue with whitehat outreach is the lack of control of the Anchor text or the content surrounding the link that you get. You can end up with random anchor text or with links at the bottom of the page and not surrounded by quality content and there is nothing you can do about it. In fact more often than not, you will never get the exact match anchor text that you want.
With PBNs, you are in complete control of all the links since you own all the websites linking to you. You can, therefore, choose the right anchor text, the right content, and placement of the link.
Many SEOs own a 1000 website network that they've built over time. They can then hand-tweak the anchor texts and link velocity to "naturally" rise in the rankings. These are links that their competition will never be able to get.
Are PBNs a black hat strategy?
Yes.
Many a "gurus" claim that PBN link building is not a black hat strategy in order to sell their courses.
However, let's be very clear on this – any form of intentional link building is against google's guidelines.
If Google finds out that you paid a journalist to link to your website from an editorial article (without disclosing it), they will penalize your site.
Similarly, if Google finds out that you have a network of websites linking to your money site, they will penalize your money site and/or de-index the PBN sites that they find. This is the potential risk with PBNs that you need to be aware of and be prepared to manage.
Google did say that they don't penalize the sites getting the link, but simply devalue the link instead. This was done to fix Negative SEO attacks on innocent sites. However, they meant that the penalty will not be given algorithmically.
Google has an army of website graders who will manually review your moneysite and the links it gets, and then decide whether this looks natural.
If you fail this manual review, then there is a risk of getting penalized (more on this later).
Most people believe that PBNs are only used for small websites mainly in the affiliate marketing space. However, a post by Glen Alsop shows how very large websites are using the same PBN methodology to rank very high. They do so by ensuring that their PBN websites are super-authoritative websites by themselves. Hopefully this guide will let you do the same for your online business.
Why should I use PBNs as a link building strategy if Google can penalize me?
This is a very good question, and something all SEOs need to think about.
A lot of link building strategies that are first considered white hat eventually turn into black hat methods. This is because Google considers all strategies that focus on building links as black hat. As an example guest blogging was an effective white hat tactic a few years ago. However, SEO scaled this up and not websites that focus too much on guest blogging are at risk of getting a manual penalty.
We all know that creating content is not enough to rank. You need backlinks. So every SEO needs to figure out the correct SEO strategies for his clients, and be aware of the risk v/s reward trade-offs for each of them.
If you choose to build PBNs, you need to accept the higher risk of a penalty for a better chance at controlling the links (quality + content + anchor text).
PBNs are not for everybody – and especially not for those who do not understand the risks.
But for those who do, it can be a very effective way of ranking to the top, and staying there for a very long time.
The SEOs who do this well, know the risk v/s reward of PBNs and do their best to offset some risk. They use private blog networks on websites that already have some links, and since they can sculpt the anchor texts, it's easy to rise in the search engine rankings for specific search terms.
History of PBNs
PBNs have an interesting history. They shot to the limelight in 2014 when Google actively went out after a couple of Public Blog Networks (these are PBNs where anyone can purchase links from).
Never ever use a Public Blog Network. If anyone and everyone can purchase a link from the network, you can be assured that one day, it will go down!
How long have PBNs been used?
Looking at Google Trends, you can see that people have been googling "private blog network" as early as 2005.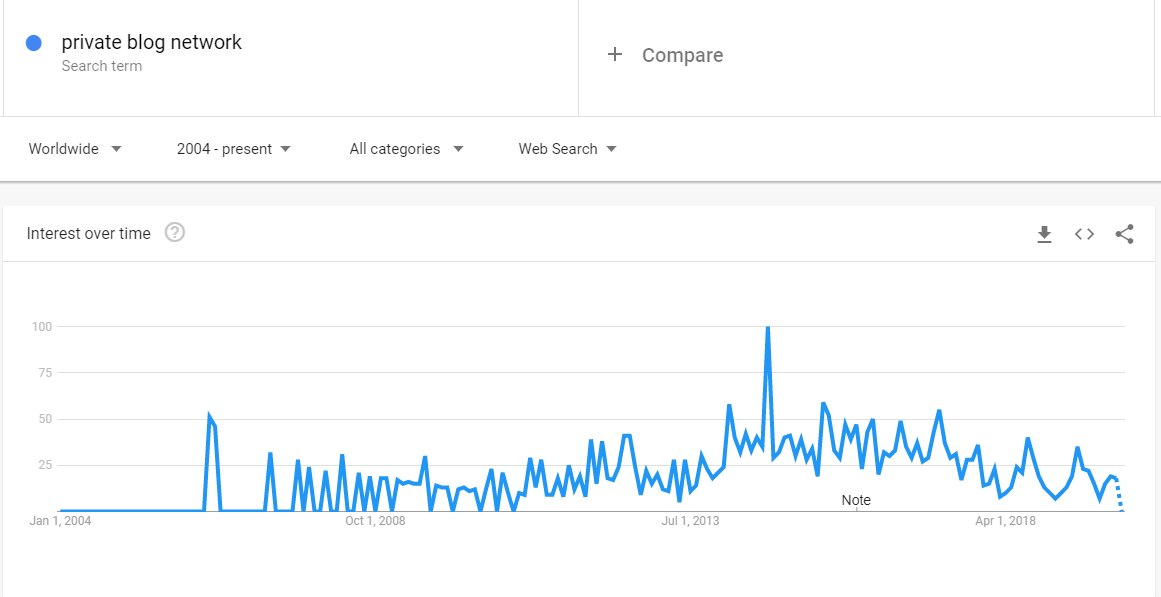 It is likely that this technique was used by many SEOs as early as that. However, this technique started showing up in IM forums around the year 2010.
It gained steam till 2014 after which it died down for a bit due to Google penalizing a few public networks. However, soon after that it has continued to gain steam as SEOs have realized that it is much tougher for Google to find a well built private blog network that does not sell any links.
When Google penalized Two Blog Network PBNs
Towards the end of 2014, Google de-indexed a bunch of PBNs and following this event, many SEOs decided never to use this technique again.
There was a lot of speculation online about how these networks were found and most of them point to the networks having used very poor low-quality content and not having followed the rules required to keep a PBN private. We know that these networks sold links to the public, so it was trivial for Google to find all the websites in these networks.
Since 2014, there has not been any major news of Google going after private blog networks. The reason is probably that Google is unable to algorithmically find PBNs and needs humans to manually find and penalize them. Google is all about automation and they would therefore only bring in human reviewers once in a while in order to keep certain black hat tactics in check.
In 2020, it is therefore even more important to make sure that when a human reviewer takes a look at your PBNs they only see a list of independent, authoritative websites.
First and foremost, you want to stay away from Public Blog Networks – these are networks owned by someone else, where you can purchase a link. Since this network is public, it is easiest for a Google employee to purchase a PBN link package, then simply use the back links to trace out the entire network. This is exactly what Matt Cutts did to the public network – Anglo Rank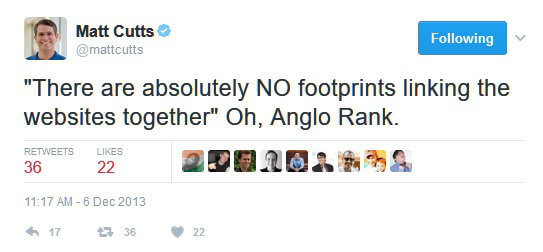 In an ideal PBN, each domain is hidden from the others in the network and by design, a PBN makes it impossible for anyone to locate other domains forming the network. The fact that an entire network was found and de-indexed probably means that the rules were not followed.
Penalty and Deindexation
Building a PBN takes a lot of money and a lot of effort.
You, therefore, want to treat this as a prized asset and want to build it to last for many more years to come.
Many newcomers spend thousands of dollars on buying great expired domains, and then buy some cheap pbn building service, where one small mistake causes their entire network to be deindexed by Google.
Below are reasons why PBNs get deindexed as well as rules that you should follow to ensure that you keep your PBNs as safe as possible.
Ten Reasons for Penalty or Deindexation
Selling links (publicly or privately)
Poor content quality (spun content) that results in a manual review
Hosting multiple domains on the same IP address
Having the same registration info (WhoIs) for multiple domains
Hosting with SEO hosting services (many have their IP address range flagged)
Being vocal about owning a PBN (resulting in manual review)
Blocking crawlers in robots.txt and not at the web server level
Using a domain that already had a penalty
Not linking out to other useful websites
Not mixing up Anchor texts in links from PBN
Eleven best practices for building your network of private blogs/websites
Different Registrars: Try and buy domains through different registrars. You should have the WhoIs Guard enabled on most domains. We do not suggest having fake details in the WhoIs records. However, if you must, do this for domains that have not cost you a lot to acquire (since you run the risk of losing the domain). Also, make sure to use the DNS of the individual registrar and not use one single name server for all your domains.
Different Hosting: Each website should be on a different Subnet IP address. If an IP address is represented as AAA.BBB.CCC.DDD, then the CCC and DDD should be unique for each of the websites in the network. Many web hosts only get a small range of IP addresses that they can provide to a client. While the IP address might be different, you may get the same "AAA.BBB.CCC" – in this case, only host one or two domains with this web-host.
Different Website Content: You should post unique and valuable content on each of the websites. There should be no spun content whatsoever. Treat the domains in your PBN with the same respect as you treat your money site and invest in their quality.
Each domain will link out to any money site once only. No matter how tempting it is to link out to all your money sites through a single domain, remember that this only increases the risk.
There should be no site-wide links – only links that are embedded in the contextual text. We strongly believe that in the future all non-contextual links are going to be devalued.
Each page has a maximum of 2-5 outgoing links. Some pages should also have no links at all. This is done to keep the link profile natural. All outbound links from a single page should go to authority sites that are topically relevant to your niche. Linking out to other useful sites in your niche is very important. However, don't just link out to top sites like Wikipedia or the New York Times. Link out to other smaller authority in your industry.
Each domain should start to link out to your money site only after it has got a few pages created. The initial links should all be to other authoritative sites in your niche. Don't simply link out to Wikipedia, Youtube, and other big sites. Choose authoritative sites in your niche.
Use different anchor texts when linking to your money site. This will depend on your current link profile. If you have a diverse link profile, then it's fine to use specific anchor texts to rank. However, if your site is on a brand new domain, use a few naked URL anchor texts as well.
Each website needs certain pages to pass manual review – about/contact/privacy policy.
Your PBN site should be in the same niche as it was before the domain had expired. Google's John Mueller has clearly said in a Google webmasters hangout that if Google realizes that the new website is not the same as the previous website, then the link to the old website does not apply to the new one. Basically, if you don't stay within the same niche, the back links will lose all value.
Absolutely NO selling PBN links – and no sharing information with anyone about the domains you own
PBN Planning – Planning for SERP Success
Before you start building your PBN, it makes sense to first take a step back and look at your goals in building it. A PBN is time-consuming and costly to create, so we want to make sure that you plan correctly before you start.
Remember – failing to plan is planning to fail! Don't you agree?
Here are some things to plan for before you start on this wonderful journey.
Plan for how many PBN links you need to rank
There is no fixed answer for this question. The number of links you need to rank depends on how competitive a niche you are in, whether your On Page SEO is sound and how much domain authority your money site already has. As a rule of thumb, 10 PBN links should help you rank easily for a medium competition keyword. So plan for at least building these many sites.
Plan for the cost of a PBN
Building a PBN is not easy and definitely not cheap. There are three costs to a PBN – (a) the cost of the domain, (b) the cost of hosting & (c) the cost of content.
The true value of a PBN link is based on the backlinks that the domain has and therefore you want to spend as much as possible to buy a domain that has healthy backlinks. A good domain from a broker can cost you anywhere from $80 to $500. (The really good domains can go for a lot more).
If this is your first PBN, we suggest you stay around the $100/domain range. As you gain more experience, you can decide to spend more and purchase costlier domains.
Hosting is an ongoing cost, and we don't think you should be paying more than $15 to $20 per year for each website. Content tends to be costly as you want to make sure it is good quality content. An article of around 500 words will cost you around $5. You can create your PBN with around 5 articles and then add a new article once every two months.
Cost of a single website = $100 (for domain) + $50 (for 5 articles) = $150 one time
Yearly cost of a single website = $30 (for 6 articles) + $20 (for hosting) = $50/yr
Total cost for 10 website PBN = $1500 one time & $500/yr ongoing.
Remember, as you add more websites to your network and you start making money, you should start adding costlier domains to your network to make it even stronger.
Plan for the way you will structure your network
The structure of your network will depend upon whether you are promoting (i) a single money site (ii) multiple money sites in the same niche (iii) multiple money sites in multiple niches.
If you are an entrepreneur, you will fall into category (i) or (ii) i.e. you have one money site that you want to rank or have a bunch of different money sites in the same niche and you want all of them to rank. In this case, your network will be simple – all your PBN domains will be on the same network and will be completely independent of each other.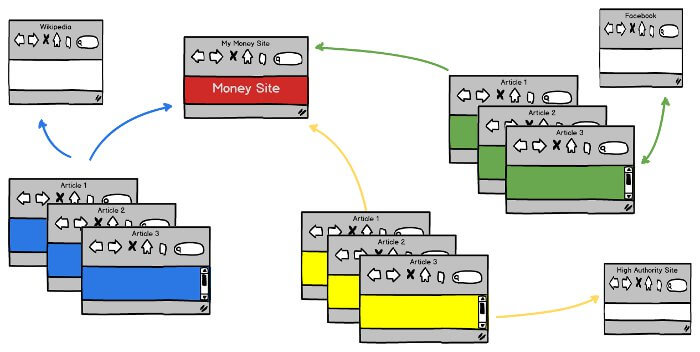 If you are a marketing agency, you will most likely fall into category (iii) i.e. you have multiple clients that have money sites in different niches and you want to create PBNs to rank all your client sites.
You would be best suited to creating Master Networks for top level niches that your clients target. For example as shown in the image below, you could put all your websites that target Health and Fitness into a single "Health and Fitness Master Network" and similarly all sites in the Technology niche can be put in the "Technology Master Network". You can then link from each of these master networks to your individual clients.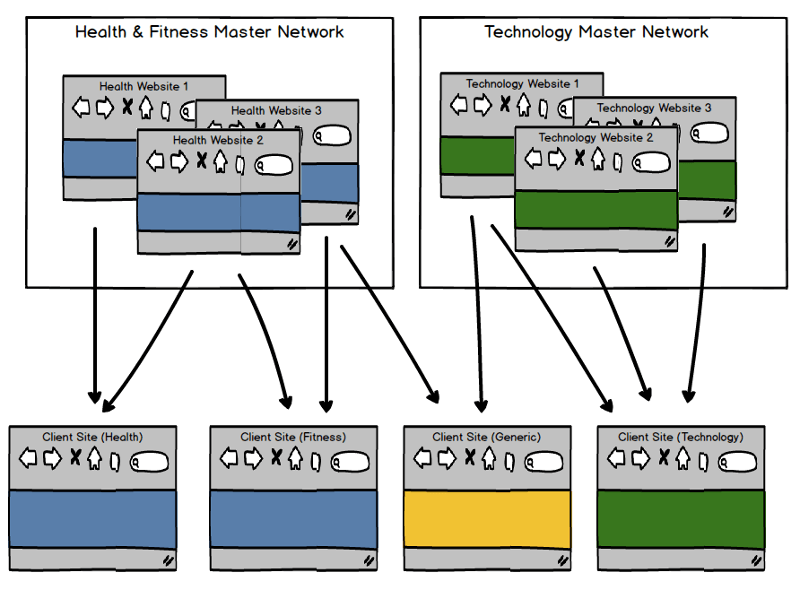 A generic client can get links from websites from both of these master networks, while niche specific clients get links from the specific Master networks.
There are two main benefits of creating Master networks –
(1) It protects your master networks from one another. If a single master network is found in a manual review, then the other network is not affected.
(2) You can share links between some networks wherever applicable for client websites that are not in a specific niche or are in multiple niches.
Plan for drip feeding links to your money sites
A question we often get from customers is "When should I start linking to my money site from my newly created PBN".
The answer is – only when it is natural to do so. What this means is that if you have a new money site that has gotten no links from other means, such as outreach or guest posts, then you do not want to start sending PBN links to this site just yet.
Your PBN links are the best links that your money site will even get – the reason for this is that you are in complete control over the anchor text and link equity that the PBN link passes. We, therefore, suggest that you use PBN links very strategically.
If your money site already has backlinks from a few sources and the anchor text from the links are varied, then this is the best time to drip feed PBN links with specific anchor texts to your money site. The reason you want to make sure that the money site already has back links is so that when you drip feed your PBN links with specific anchor texts, the anchor text density for those phrases do not become unnaturally high.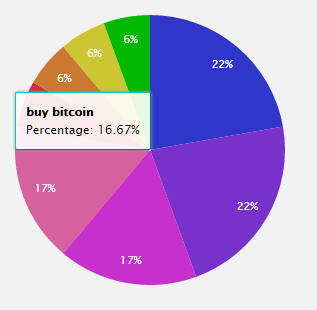 If you owned the site above and wanted to rank for "buy bitcoin", adding more links with this anchor text will not work out very well for you, as 16.67% is quite high. It would be better for you to wait and add other links, which lower this percentage and then add your PBN Links.
You also want to blend in your PBN links with all the other links in your network so that you pass every single manual review your site goes through.
Too many PBN owners don't plan for this. They add the PBN links and then pray that their money sites don't go through a manual link review. When they do get caught, they swear off PBNs and give up for good!
Plan for managing things efficiently
As you already know by now, creating and managing a PBN is a time-consuming process – time that should be spent elsewhere. You will, therefore, want to hire a Virtual Assistant (VA) who will do the steps for you.
That said – do not hire a VA until you have created the first two websites yourself. Why two sites? Well, when you are creating the first site, you will be doing it for the first time and will most likely mess things up. When you do it the second time, you will be able to write down the entire process into a word document and create relevant excel sheets which you can then pass off to a VA to create the remaining sites.
You want to make sure that the word document is as thorough as possible in order to make sure that the VA leaves no footprints behind. You can check out templates that other PBN creators have put up online. However, I strongly urge you to only use them for inspiration and to create your own process documentation. It will be a lot easier to verify that the VA has done things correctly if you created the checklist document yourself.
Yes. I know that creating and managing a PBN is a lot of hard work. I never said it would be easy. If you want to dominate the SERPs, you just have to suck it up and deal with it.
PBN Domains – Buying domains that your PBN deserves
There is one thing that you should know.
The entire value of a PBN network comes from the quality of backlinks that the domains in the network have.
The entire value …. not 80% … not 90% … but the entire 100%
The reason I want to push this point home is that a lot of customers try to lower the cost of their PBN by trying to buy cheap domains.
If you really need to lower the cost of the PBN, you would be better off trying to save money from the content than from the domain.
Great content on a crappy domain will give you nothing … Great content on a bunch of crappy domains …
Infinite Face Palms!
Now that we have that out of the way, Let's begin.
What to look at when buying a PBN domain
You want to buy a spam free domain that has amazing backlinks from websites that are in the same niche as your money site.
If your money site is in the health niche, then you want to buy PBN domains that have backlinks from other authority sites in the health niche. You also want this domain to have many such backlinks from unique class C IP addresses.
We suggest using Majestic, Moz, and Ahrefs to find all the backlinks that your domain has. To check the niche that the backlinks are coming from, we suggest you check the Topical Trust Flow category (a Majestic metric) for the domain. You can see the entire list of topical trust flow categories here.
Metrics are a good way of quickly figuring out whether the backlinks have any value. This lets you filter down from a list of thousands of domains. However, you should always manually check the backlinks to a domain before you purchase it. No metrics are fool proof – and this is the single most important step in buying a PBN domain.
You also want to make sure that the domain does not have spammy backlinks and had not been previously used for a PBN. Here is a tutorial that shows you how to quickly check the backlinks of a domain. You also should look at the history of the domain using the Internet Archive (Wayback Machine) and Screenshots.com. If you find strange foreign language sites in the history of the domain or it looks like a spammy site or PBN site, it is best that you ignore it.
Finally, you want to check whether the domain in indexed or not. If you are buying this domain from an auction, and the domain is not indexed, it means that the domain was penalized. Domains that are Pending Delete, or have expired are immediately removed from the Google index. So, this check would not work for them.
The easy way to check if the domain is indexed by Google is to run a simple search on Google for "site:domain.com". If no results show up, the domain has not been indexed. See screenshot below to check the same for our DomCop website.
Expiring vs Expired Domains
An expired domain is a domain that has already passed the Pending Delete stage, has been returned back to the available pool, and therefore can be purchased from any registrar of your choice. The Who Is details of this domain will show the date of expiration.
An expiring domain is a domain that has not yet reached the Pending Delete stage, but is likely in an auction by the registrar holding it (e.g. GoDaddy TDNAM domain auctions & closeouts). These domains do not actually expire. Once purchased they are just moved from the previous owner's account to yours and therefore the Who Is details of this domain do not show an expiration date.
Some PBN creators believe that there isn't any difference between expiring and expired domains, while others believe that expiring domains have greater value. The latter tend to cause the price of domain auctions to increase, and explain why recently GoDaddy auctions have become so overpriced.
Personally, we have not seen any differences between the two, and as long as the backlink profile is the domain is strong, it does not matter to use whether it is an expiring or an expired domain.
Where to buy PBN domains from
There are 6 ways to purchase great domains for your PBN
Buying domains from brokers
This is the preferable option if you are creating your first PBN. Evaluating and buying a domain from an auction (or an expired domain) takes a lot of time and skill in checking backlinks. So, you should purchase the first 2 to 3 PBN domains from a broker.
You can find brokers at various forums like BlackHatWorld and WickedFire. Beware that you may meet a few scammers. Definitely, do your due diligence before you make any purchases. These forums have official sales threads and it makes sense to purchase through one of them.
Buying from domain auctions
The domains with the best backlinks always find their way to domain auctions. GoDaddy Auctions is currently the best place to find high-quality domains. However, there are now quite a few other auction sites like NameJet, SnapNames, Dynadot, Flippa etc that are worth a look. (We support these and much more at DomCop).
The only downside to purchasing from domain auctions is that when you bid on a domain, it attracts other bidders. This causes the average price of a domain in an auction to go up – this benefits the auction site, but makes it very hard for SEOs to find a good domain for cheap. One trick is to only bid on a domain when there are just a few minutes left. This ensures that your bid does not attract too many other bidders and is your best bet at getting a domain for cheap.
Backordering Pending Delete domains
Your best bet to buying an expired domain is to place a back order for it before it expires. Domains that are going to drop end up in the "Pending Delete" status 5 days before they are going to drop (see domain lifecycle below)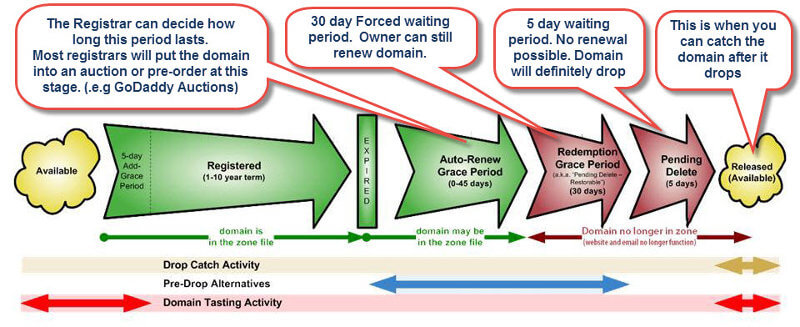 These domains can be found in the "Expiring" section at DomCop. If a domain is valuable, we suggest you place multiple backorders with different sites like NameJet & SnapNames. Since you only pay if they catch the domain for you, you can place the backorder with multiple sites and let them compete against each other. A typical backorder costs you around $69, although each site has their own pricing.
Manually catching dropped domains
We do not suggest you do this. The only reason to have this option list here is to highlight it. Many of our customers have tried to save the $69 back ordering cost of the domain by trying to catch the dropped domain themselves, by either using a drop catching software or by manually registering it.
If a domain is valuable, the back ordering service will definitely try and catch it. These services have multiple direct lines to the domain registry and therefore cannot be beaten at the drop catching game by individuals.
So, if the domain is indeed valuable, save yourself time – and just cough up the cost of a back order.
Archive lists of dropped domains
Some valuable domains get ignored by the back ordering services. This could be because the Moz, Majestic and Ahrefs do not show high metrics for it, even though the back links are good or this could be just due to human error. Roughly 200,000 domains drop every day, so there is a chance that you can find some diamonds in the rough.
At DomCop, we maintain an Archive of dropped domains with good metrics. These are domains that have dropped in the last two years but are still available to purchase.
Using an expired domain crawler
We launched our personal expired domain crawler (Guru Plan) in early 2016 and it was a roaring success with our customers.
A crawler is a useful tool if you are a domain broker or want to create a large PBN. An expired domain crawler crawls all the pages of an authority website that you specify. It finds all the broken back links from this website and checks whether the domains that these links are pointing to are available to register.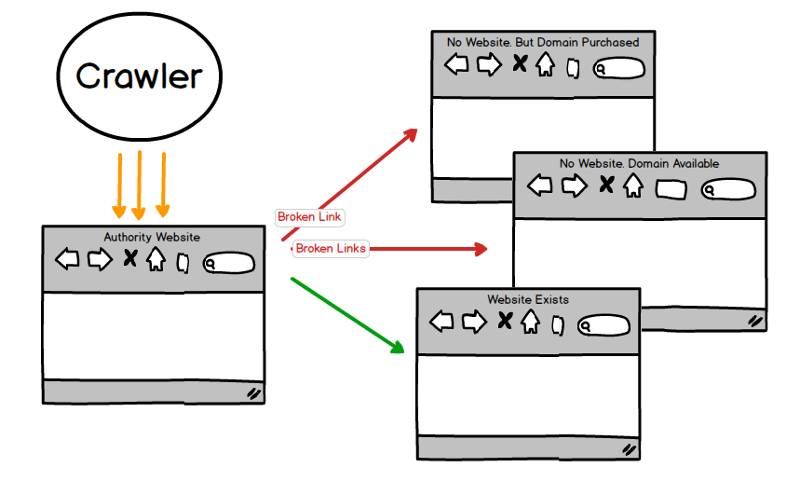 If the domain is available to register, the crawler gets metrics from Moz, Majestic, Ahrefs, and other sites and presents the domain to the user. These expired domains can be purchased from any registrar of your choice and you only pay the default registration fee for the domain. For more information on how the crawler works, check out our tutorial on using our expired domains crawler.
What metrics should I look at?
Ah, the question on metrics again! Customers are overwhelmed with having so many metrics to look at, that they get paralyzed from buying domains. They don't know whether to look at the Ahrefs Domain Rating or Moz Domain Authority or the Majestic Trust Flow or Moz Rank or SEMrush Rank or Estibot value or….
All I can say to them is … Stop
Metrics are useful to help you filter down from a list of 200,000 expiring domains to a list of 20 expired domains. This saves you a lot of time. However, that is where the usefulness typically ends.
You have to – have to – check the backlinks of a domain before you purchase it. There are no short cuts here.
That said you can definitely use metrics to gauge the spamminess of a domain you are going to purchase. For a PBN domain you want the TF/CF ratio to be as close to 1 as possible (and higher). Domains with fake backlinks tend to have a TF/CF ratio of < 0.8 and so you may want to stay away from them. Another metric to check for Spam is the Moz Spam Score. The lower the better.
The only metric that I find truly useful is the Majestic Topical Trust Flow Category. This tells you which niche the domain has backlinks from and I strongly urge every customer to try and buy as many niche specific domains as they can for their PBN.
This article should hopefully get you started with buying your first PBN domain. Don't freak out if this is taking longer than you expected or if you are not finding a great domain to start with. Get your PBN started with a "good enough" domain. You can always add more awesome domains to your PBN later.
PBN Hosting – How to create a massive network while leaving no footprints!
Hosting is the most un-glamorous part of creating a PBN. Well… it's not like the other parts are glamorous … but you get my point. PBNers hate having to think about hosting and hate even more having to pay hosting fees.
However, your hosting decisions can literally kill your PBNs. They are the source of the biggest footprint available to the search engines to figure out and do a massive deindexation of your PBNs, so this is something you really need to be careful about.
Many a PBNer left a footprint the size of the Enterprise in their PBNs and then threw a hissy fit when their PBN got de-indexed.
Let's make sure this is not You!
For starters – Do not use a service that claims to specialize in hosting PBNs – especially one that markets itself with that. If you have found this service, then rest assured that a Google employee will have found it before you. It is trivial for Google to spend a few $$$$ and create accounts at such a hosts, get a list of all IP ranges for these hosts and start mass de-indexation.
Now that we got that out of the way, let's discuss what kind of hosting you can use.
Virtual Private Servers
Common Web hosts
Hosts from forums like Webhostingtalk
Amazon web services : S3 with Route 53 & Google Cloud
Virtual Private Servers
This is my favorite option because you don't have to share the IP address with any other website and these high-quality providers have millions of high-quality websites on their servers. However, you need to have some technical chops to be able to manage a VPS hosting. It's pretty easy, though, especially if you use our tutorial on how to setup WordPress to run on a low-end VPS.
Recently, there was a price war between high-quality providers like Linode, Digital Ocean, and Vultr. The result is that Vultr now sells a 512 MB RAM VPS for only $30/year. OVH sells a 2 GB RAM VPS for $45/year.
Apart from these providers, you have a bunch of other VPS providers that provide even cheaper hosting. You can check out sites like lowendbox.com, vpsboard.com, and lowendstock.com to find providers that sell VPSes for $12 to $15 per year. Just make sure that the provider has been in business for a few years. Many providers go bankrupt and either shut down their servers or sell their customers to other providers.
Common Web hosts
This is the simplest option for those who do not want to deal with setting up a VPS. With a simple google search you can find web hosts like HostGator, Bluehost, HostMonster, GoDaddy etc.
The only issue with these web hosts is that it's a pain managing them and they tend to be a lot costlier than other options. However, it is good to have a portion of your PBNs setup with these hosts.
Hosts from forums like Webhostingtalk
You can also find cheap hosting by visiting forums such as webhostingtalk.com. I, however, recommend you try and stay with the high-quality VPSes as far as possible. This used to be a great place to find cheap providers, but now with the price wars among top hosts, the savings do not justify the headaches.
Cloud Hosting – Amazon Web Services S3 with Route 53 & Google Cloud
With the advent of cloud hosting, you can now host static websites with Amazon S3 and Google Cloud. I don't have any personal experience with Google Cloud, but I do with Amazon S3. You can setup a static website for as little as $6/year. Amazon has a simple tutorial on setting up a static website on S3 using Route 53.
Now that you've decided on your hosting options, let look at how to ensure that you do not leave any footprints. I won't discuss all the common footprints that you already know about. (If you don't, check out our Beginner's PBN Guide). These are footprints that most people don't talk about. These are footprints that will cause mass de-indexation and make even more people write blog posts swearing to never go near a PBN again.
Don't block Crawlers (using robots.txt or other means)
You will find loads of websites telling you to block crawlers like Majestic, Moz, and Ahrefs from crawling your website so that your PBN links do not show up on those sites.
At first glance, this sounds like a smart thing – but now put yourself in Google's shoes. Do ordinary sites block these crawlers specifically? What kind of sites block these crawlers – only those that have something to hide? How easy is it to find such sites? The answer is that it is Trivial.
Even if you do not use robots.txt and do this via .htaccess or using a WordPress plugin, if Google really wanted to find all PBN sites, all it had to do was crawl your website using a different User Agent. (They already do this to find cloaked content)
If you setup your PBNs correctly then no manual reviewer should be able to see a link to your website and know that it is from a PBN website. The PBN website should look and function like a real website. Therefore, don't block any crawlers. Let your competitors see all the backlinks you have. If you have done your job right, they won't know which links are PBN links.
Don't use Cloudflare to hide their IP
Many PBNers started using Cloudflare to mask their real IP. The reason to do this is that they did not want to deal with the hassle of setting up separate hosting for every PBN site. So the simple solution – set up all your PBNs on one IP address (or Subnet) and then use Cloudflare to mask the real IPs.
Unfortunately, this false sense of security is going to come back to bite many lazy PBNers. Cloudflare is known to leak real IPs. In fact, there is a website called CrimeFlare that can show you the real IP of your website. They also allow you to download their entire database. Don't believe me – go on and check it out!
Don't use the same Google Analytics or Google Search Console account
Using the same Google account for each of your PBN sites is the biggest, most obvious footprint out there. Please don't do this. If you absolutely need this information, then create a unique Google account for every website and ensure that you only sign into these accounts using unique IP addresses.
Content Strategy
The important thing to note about content writing is what we call the Freshness Factor. Search engines give more weight-age to websites that constantly have new content. No one really knows what is a good freshness factor – but I believe that having one article a month would be good enough to keep the websites fresh. Remember – it is important the content is high quality.
That said, I actually recommend not writing any content immediately. Content tends to be the costliest aspect of a PBN (apart from the cost of an awesome expired domain) and therefore it makes sense to check whether the domain is clean and has no penalty before spending time and money on content. When you have a domain and hosting, I suggest you put up a website with a single page of content on it and follow the process below.
Penalty Check One: Once you put up a default site with a single page of content, wait for a couple of weeks. If the site has not been indexed in 2 weeks, the domain may have been penalized. You can wait for an additional 2 weeks at this time, but beyond that, I suggest you accept that you bought a bad domain and move on to the next one.
Penalty Check Two: After a domain has been indexed, you should check if the domain ranks for the naked URL search. For example, if the domain is "mynichedomain.com" you should run searches for "mynichedomain.com", "mynichedomain" and "my niche domain" to see where the domain ranks. If the domain does not rank at the top for "mynichedomain.com", you should wait for a while till it does. Once it starts ranking for the naked URL search, you can start building content and link out to other authoritative sites.
SEO your content – You want to treat every site in your PBN as good as your money site. So make sure you spend enough time doing on-page SEO for your PBN websites. Have a strategy to rank for low volume keywords, by placing them in the URL, title, description, headings and content of every page. If your PBN website gets natural organic search traffic from Google, it will have a much better chance to pass the manual review (or not need a manual review in the first place)
Backlink Strategy
Do not start link building immediately. Once you are sure that the domain has been indexed and ranks for its naked domain name and you have put a few links to other authority sites, you can create a page (or use an existing page) related to your money site and place a link there.
You should check the back links to the domain in Majestic and/or Ahrefs and choose a page that has the most back links to it. Placing the link to your money site on this page will ensure you get the maximum link juice to it.
Remember to link to this page from other pages (especially the homepage) from the website. This is to help the link equity flow easily to the page with your link.
Passing manual reviews
You should assume that every website in your PBN will someday face a manual review and it should be your main goal to pass each review with flying colors. Here are a few things that reviewers look at
Contact information – A reviewer would like to find out if there is a real person behind the website. He would look for contact information on the about/contact page. Create a fake persona for this. Your about page should give information on why this person created the website and what he hopes to achieve by it. On the contact page, give some options to visitors to get in touch with the person
Blog comments – Blog comments send an instant message to the reviewer that the blog is being read by an audience that is communicating with the writer. You can add some fake comments to every article you publish. Remember to reply back as the blog author to each of those comments.
Privacy policy – Google requires all its AdSense publishers to have a privacy policy. Although this is not a must have for you, it is always good to create this page and link to it from the footer.
Final word
Building an effective PBN for SEO is a slow game. If you build too many links to a new website, you are going to land into trouble. So whenever you are not sure of your link building speed, choose the slower option. Invest in building your PBN over the long run. Once you have a successful network, you will be able to use it for as long as you want.
Buy Great Domains for your PBN
Frequently Asked Questions
Here are some questions we get frequently via email from customers.
Q: On your PBN site, do you link all articles on the homepage or do you have links to inside posts too?
A: Link from all pages. Your PBN Site should look exactly like your money site. Do all outgoing links only go out from the homepage of your money site? you should, therefore, link out from home page and individual pages as well.
Q: Can I monetize the traffic to my PBN sites using Adsense?
A: Absolutely not! This would leave a large footprint and you can be certain for a penalty. I understand the need to monetize every visitor you can get – but seriously – don't do this.
Q: Does the expired domain have to be in the same niche as my money site?
A: It's great if you can find expired domains in your niche. However, that is not always possible or cost effective. You can then use expired domains from other niches, but find a way to get a link that seems natural.
Q Where do I link to money site from? Home page or individual articles
A: It is well known that a home page link passes a lot more juice than a link from an article. However, most natural links to websites come from articles and not home pages. So while you could have a few handful home page links, the majority of your links should come from individual articles.
Q: Other PBN guides talk about blocking bots. You don't. Why?
A: The entire idea behind a PBN is to make it look natural to the search engines. Pick the top 10 sites from your industry. Check if they block any bots like Ahrefs, Majestic or any other. They don't right? Why would they? It is not a natural thing to do for any website, and so your PBN sites should not block bots either.
PBN owners who block bots generally do so because they are afraid of their competitors finding their PBNs. But by blocking bots, you make it very easy for search engines to find your sites – because only PBNs block bots 🙂
Buy Great Domains for your PBN
Below is a short PBN setup checklist guide that you can use as you setup your PBN
PBN Setup Checklist
What metrics to use to check Expired Domain Quality
TF >= 20
TF/CF Ratio > 0.8
DA >= 25
Moz Spam Score <= 4
5+ Linking Subnets
No spam keywords in Anchor texts
Manual check on on all backlinks
Manual check on Wayback Archive
Bonus if domain has SimilarWeb, SEMrush, Alexa metrics
The quality of the expired domain is the one thing that matters most, so don't build a PBN unless you are sure that the domain has awesome back links
Registrars & WhoIs
Enable WhoIs Privacy or use Fake WhoIs data on low value domains
If using Fake Whois data, remember to use this data on About & Contact pages of website
Use different registars for all your domains. No single registrar should have more than 20% of your domains
Hosting your PBN
Prefer automated monthly payments
Unique C level IP address
Use hosts in different geographical locations
Setup website on the subdomain with the highest TF – either domain.com or www.domain.com
If you have static websites use AWS S3 + Route 53 to host 15-20% of the PBN
CMS or Static HTML
WordPress powers 20% of the internet and is therefore an ideal candidate
Use static html files for really cheap & reliable hosting
Do not block any crawlers like Majestic or Ahrefs, as this leaves a huge footprint
Install a high quality theme for wordpress, unique for each site
Use a tool like Artisteer to create high quality unique websites
Detailed About & Contact pages – use fake mailing addresses and names
Privacy Policy & Terms pages
Use a unique & high quality logo for each site
Use a Caching plugin for wordpress to make sure your site can work on low end hosting
Content Management
Wait for two weeks for site to be indexed before spending on content
High quality articles – checked by CopyScape & Grammarly
SEO for each article – title, description with relevant keywords
Images/Videos in articles, if applicable
Ongoing Maintenance
Add content at least once every two months
Check domain metrics once a month. If a domain loses links you can either build links to it or 301 it to another domain and reuse content
Check indexation once a month
Linking to money site
One link per domain to money-site.
Topically relevant links to money site should be from a mixture of homepage and subpages
Link should be contextual and placed towards the top of the article
Article that links to money site should be topically relevant to both the money site and to the PBN site
Money site link should be on the page that has the highest Trust Flow
Each article should link to other topically relevant authority sites in the niche