This blog post assumes that you know what a Private Blog Network (PBN) is and has been written to help you setup one with the lowest risk of being found and subsequently de-indexed.  Once you have read this blog post, we recommend checking out the pbn setup checklist guide.
Table of Contents
When Google penalized Private Blog Networks
Towards the end of 2014, Google de-indexed a bunch of PBNs and following this event, many SEOs decided never to use this technique again. There was a lot of speculation online about how these networks were found and most of them point to the networks having used very poor low quality content and not having followed the rules required to keep a PBN private.
In an ideal PBN, each domain is hidden from the others in the network and by design a PBN makes it impossible for anyone to locate other domains forming the network. The fact that an entire network was found and de-indexed probably means that the rules were not followed.
Additionally, many networks that got de-indexed were due to the owners selling PBN links to third parties, thereby exposing their network.
Today, you are going to create your PBN following the specific rules list below. Ignore these at your own peril.
Reasons for Penalty or Deindexation
Selling links (publicly or privately)
Poor content quality (spun content) that results into a manual review
Hosting multiple domains on the same IP address
Having the same registration info (WhoIs) for multiple domains
Hosting with SEO-hosting companies (many have their IP address range flagged)
Being vocal about owning a PBN (resulting in manual review)
Blocking crawlers in robots.txt and not at the web server level
Using a domain that already had a penalty
Not linking out to other useful websites
Not mixing up Anchor texts in links from PBN
10 rules for building your network of private blogs/websites
Different Registrars: Try and buy domains through different registrars. You should have the Who Is Guard enabled on most domains. We do not suggest having fake details in the Who Is records. However, if you must, do this for domains that have not cost you a lot to aquire (since you run the risk of losing the domain). Also make sure to use the DNS of the individual registrar.
Different Hosting: Each website should be on a different Subnet IP address. If an IP address is represented as AAA.BBB.CCC.DDD, then the CCC and DDD should be unique for each of the websites in the network. Many web-hosts only get a small range of IP addresses that they can provide to a client. While the IP address might be different, you may get the same "AAA.BBB.CCC" – in this case, only hose one or two domains with this web-host.
Content: You should have unique and valuable content on each of the websites. There should be no spun content whatsoever. Treat the domains in your PBN with the same respect as you treat your money-site and invest in their quality.
Each domain will link out to any money site once only. No matter how tempting it is to link out to all your money-sites through a single domain, remember that this only increases the risk.
There should be no site-wide links – only links that are embedded in contextual text. We strongly believe that in the future all non-contextual links are going to be devalued.
Each page has a maximum of 2-5 outgoing links.  Some pages should also have no links at all. This is done to keep the link profile natural. All outbound links from a single page should go to authority sites that are relevant to your niche.  Linking out to other useful sites in your niche is very important.
Each domain should start to link out to your money site only after it has got a few pages created. The initial links should all be to other authoritative sites in your niche. Don't simply link out to wikipedia, youtube and other big sites. Choose authoritative sites in your niche.
Use different anchor texts when linking to your money site. This will depend on your current link profile. If you have a diverse link profile, then its fine to use specific anchor texts to rank. However if your site is brand new, use a few naked url anchor texts as well.
Each website needs certain pages to pass manual review – about/contact/privacy policy.
Absolutely NO selling PBN links – and no sharing information with anyone about the domains you own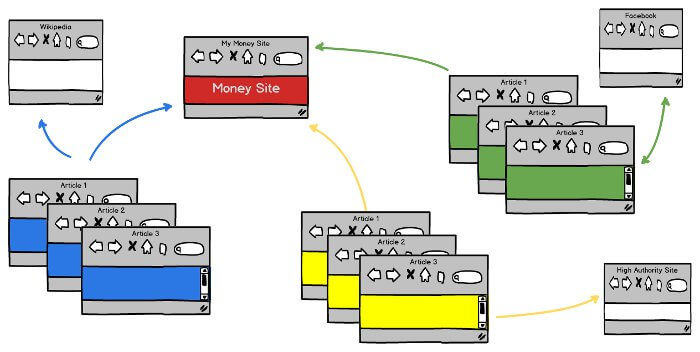 Above you can see a sample network architecture for a PBN with 3 domains. A mini pbn would have about 30 domains, whereas larger ones can easily grow to above 1000+ domains. Each domain also links out to other high authority sites in your niche.
Domain Acquisition
Head right over to DomCop. Search for domains that are at least 3 years old, are under 100$ and have a Majestic Trust Flow of at least 20. Look at the Majestic Seo Trust Flow and Citation Flow ratio as it will give you a good idea on how good the domain is. A ratio close to 1 is the best. Very low ratios mean that the back links to the domain are fake. Check out all the three sections – Expiring, Expired and Archived. (There are loads of good domains available for registration in the Archive). Use the following 4 point checklist to quickly reject domains.
If you are building a large PBN, definitely check out the Personal expired domains crawler, provided by the Guru Plan.
Software/Hosting/Platform Strategy
Hosting: We do not believe in SEO hosting since there is way too much risk involved. Google knows the IP ranges for those hosts and it would be trivial for them to figure out which sites are part of PBNs hosted there. The advantage of a PBN is that someone else's carelessness (or greed or stupidity) does not affect us.  You are therefore much better off buying low cost VPS from different providers so that there is no single point of failure. Check out LowEndBox.com or VPSBoard.com for a 128 MB VPS for around $10 – $15 a year.  128 MB is more than enough for a LEMP server with wordpress. (64MB if you plan to host a static website)
For those who find setting up and managing a VPS too much of a challenge, you can go with shared hosting. However, I think it would be a good investment if you took the time to learn how to manage VPS hosting. I promise it is not too tough and definitely worth it in the long run.
If you have static websites, you can use AWS S3 + Route 53 to host 10-20% of the websites in your PBN. Hosting charges come to about $1/mo and it's also pretty easy to setup.
Software: I love WordPress. About 20% websites in the world run on WP and so it is a safe default CMS. You could also use other CMSes as well as static HTML to mix things up.  Do not go with the default theme in any CMS. It only takes a few minutes to change to a different theme. Also add some default pages to your site. We recommend – Contact Us, About Us, Privacy Policy and Terms and Conditions.
Analytics: You may want to use analytics on your sites to see how much traffic the PBN sites get. However, this would either leave a footprint or you would have to create a new analytics account for each site (from different providers). Do not ever link your sites together in a single Analytics or Webmaster Tools (Google Search Console) account.
Content Strategy
The important thing to note about content writing is what we call the Freshness Factor. Search engines give more weight-age to websites that constantly have new content. No one really knows what is a good freshness factor – but I believe that having at least one article a month would be good enough to keep the websites fresh. Remember – it is important the content be high quality.
That said, I actually recommend not writing any content immediately. Content tends to be the costliest aspect of a PBN and therefore it makes sense to check whether the domain is clean and has no penalty before spending time and money in content. When you have a domain and hosting, I suggest you put up a website with a single page of content on it and follow the process below.
Penalty Check One: Once you put up a default site with a single page of content, wait for a couple of weeks. If the site has not been indexed in 2 weeks, the domain may have been penalized. You can wait for an additional 2 weeks at this time, but beyond that I suggest you accept that you bought a bad domain and move on to the next one.
Penalty Check Two: After a domain has been indexed, you should check if the domain ranks for the naked url search. For example if the domain is "mynichedomain.com" you should run searches for "mynichedomain.com", "mynichedomain" and "my niche domain" to see where the domain ranks. If the domain does not rank at the top for "mynichedomain.com", you should wait for a while till it does. Once it starts ranking for the naked url search, you can start building content and link out to other authoritative sites.
Backlink Strategy
Do not start link building immediately. Once you are sure that the domain has been indexed and ranks for its naked domain name and you have put a few links to other authority site, you can create a page (or use an existing page) related to your money site and place a link there.
You should check the back links to the domain in Majestic and/or Ahrefs and choose a page that has the most back links to it. Placing the link to your money site on this page will ensure you get the maximum link juice to it.
Remember to link to this page from other pages (especially the homepage) from the website. This is to help the link equity flow easily to the page with your link.
Passing manual reviews
You should assume that every website in your PBN will someday face a manual review and it should be your main goal to pass each review with flying colors. Here are a few things that reviewers look at
Contact information – A reviewer would like to find out if there is a real person behind the website. He would look for contact information on the about/contact page. Create a fake persona for this. Your about page should give information on why this person created the website and what he hopes to achieve by it. On the contact page, give some options to visitors to get in touch with the person
Blog comments – Blog comments send an instant message to the reviewer that the blog is being read by an audience that is communicating with the writer. You can add some fake comments to every article you publish. Remember to reply back as the write to each of those comments.
Privacy policy – Google requires all its adsense publishers to have a privacy policy. Although this is not a must have for you, it is always good to create this page and link to it from the footer.
Final word
Building an effective PBN for SEO is a slow game. If you build too many links to a new website, you are going to land into trouble. So whenever you are not sure of your link building speed, choose the slower option. Invest in building your PBN over the long run. Once you have a successful network, you will be able to use it for as long as you want.