This is the second part of our three-part series on Advanced Private Blog Network Building. If you have not yet, read the first part on Advanced PBN Planning.
There is one thing that you should know.
The entire value of a PBN network comes from the quality of backlinks that the domains in the network have.
The entire value …. not 80% … not 90% … but the entire 100%
The reason I want to push this point home is that a lot of customers try to lower the cost of their PBN by trying to buy cheap domains.
If you really need to lower the cost of the PBN, you would be better off trying to save money from the content than from the domain.
Great content on a crappy domain will give you nothing … Great content on a bunch of crappy domains …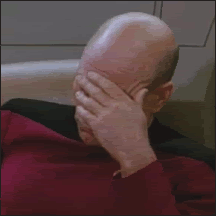 Infinite Face Palms!
Now that we have that out of the way, Let's begin.
What to look at when buying a PBN domain
You want to buy a spam free domain that has amazing backlinks from websites that are in the same niche as your money site.
If your money site is in the health niche, then you want to buy PBN domains that have backlinks from other authority sites in the health niche. You also want this domain to have many such backlinks from unique class C IP addresses.
We suggest using Majestic, Moz, and Ahrefs to find all the backlinks that your domain has. To check the niche that the backlinks are coming from, we suggest you check the Topical Trust Flow category (a Majestic metric) for the domain. You can see the entire list of topical trust flow categories here.
Metrics are a good way of quickly figuring out whether the backlinks have any value. This lets you filter down from a list of thousands of domains. However, you should always manually check the backlinks to a domain before you purchase it. No metrics are fool proof – and this is the single most important step in buying a PBN domain.
You also want to make sure that the domain does not have spammy backlinks and had not been previously used for a PBN. Here is a tutorial that shows you how to quickly check the backlinks of a domain. You also should look at the history of the domain using the Internet Archive (Wayback Machine) and Screenshots.com. If you find strange foreign language sites in the history of the domain or it looks like a spammy site or PBN site, it is best that you ignore it.
Finally, you want to check whether the domain in indexed or not. If you are buying this domain from an auction, and the domain is not indexed, it means that the domain was penalized. Domains that are Pending Delete, or have expired are immediately removed from the Google index. So, this check would not work for them.
The easy way to check if the domain is indexed by Google is to run a simple search on Google for "site:domain.com". If no results show up, the domain has not been indexed. See screenshot below to check the same for our DomCop website.
Where to buy PBN domains from
There are 5 ways to purchase great domains for your PBN
1. Buying domains from brokers
This is the preferable option if you are creating your first PBN. Evaluating and buying a domain from an auction (or an expired domain) takes a lot of time and skill in checking backlinks. So, you should purchase the first 2 to 3 PBN domains from a broker.
You can find brokers at various forums like BlackHatWorld and WickedFire. Beware that you may meet a few scammers. Definitely, do your due diligence before you make any purchases. These forums have official sales threads and it makes sense to purchase through one of them.
2. Buying from domain auctions
The domains with the best backlinks always find their way to domain auctions. GoDaddy Auctions is currently the best place to find high-quality domains. However, there are now quite a few other auction sites like NameJet, SnapNames, Dynadot,  Flippa etc that are worth a look. (We support these and much more at DomCop).
The only downside to purchasing from domain auctions is that when you bid on a domain, it attracts other bidders. This causes the average price of a domain in an auction to go up – this benefits the auction site, but makes it very hard for SEOs to find a good domain for cheap. One trick is to only bid on a domain when there are just a few minutes left. This ensures that your bid does not attract too many other bidders and is your best bet at getting a domain for cheap.
3. Backordering Pending Delete domains
Your best bet to buying an expired domain is to place a back order for it before it expires. Domains that are going to drop end up in the "Pending Delete" status 5 days before they are going to drop (see domain lifecycle below)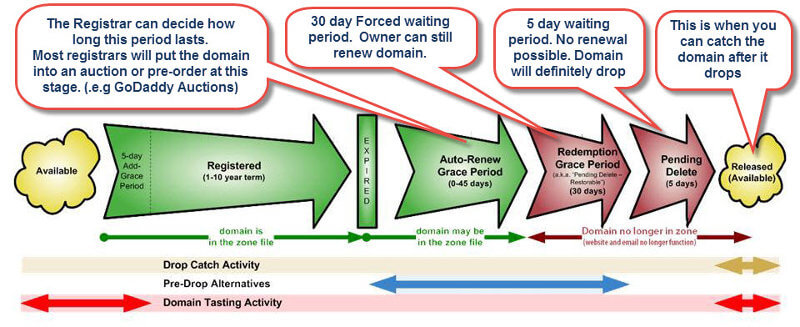 These domains can be found in the "Expiring" section at DomCop. If a domain is valuable, we suggest you place multiple backorders with different sites like NameJet & SnapNames. Since you only pay if they catch the domain for you, you can place the backorder with multiple sites and let them compete against each other. A typical backorder costs you around $69, although each site has their own pricing.
4. Manually catching dropped domains
We do not suggest you do this. The only reason to have this option list here is to highlight it. Many of our customers have tried to save the $69 back ordering cost of the domain by trying to catch the dropped domain themselves, by either using a drop catching software or by manually registering it.
If a domain is valuable, the back ordering services will definitely try and catch it. These back ordering services have multiple direct lines to the domain registry and therefore cannot be beaten at the drop catching game by individuals.
So, if the domain is indeed valuable, save yourself time – and just cough up the cost of a back order.
5. Archive lists of dropped domains
Some valuable domains get ignored by the back ordering services.  This could be because the Moz, Majestic and Ahrefs do not show high metrics for it, even though the back links are good or this could be just due to human error. Roughly 200,000 domains drop every day, so there is a chance that you can find some diamonds in the rough.
At DomCop, we maintain an Archive of dropped domains with good metrics. These are domains that have dropped in the last two years but are still available to purchase.
6. Using an expired domain crawler
We launched our personal expired domain crawler (Guru Plan) in early 2016 and it was a roaring success with our customers.
A crawler is a useful tool if you are a domain broker or want to create a large PBN. An expired domain crawler crawls all the pages of an authority website that you specify. It finds all the broken back links from this website and checks whether the domains that these links are pointing to are available to register.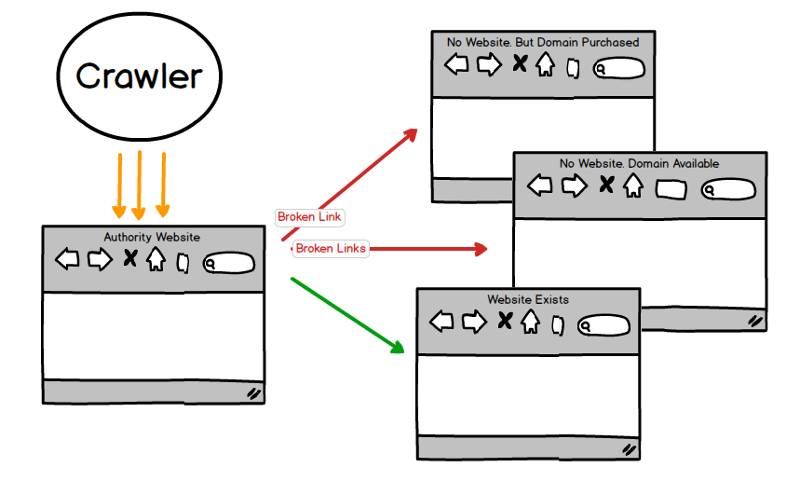 If the domain is available to register, the crawler gets metrics from Moz, Majestic, and other sites and presents the domain to the user. These expired domains can be purchased from any registrar of your choice and you only pay the default registration fee for the domain. For more information on how the crawler works, check out our tutorial on using our expired domains crawler.
What metrics should I look at?
Ah, the question on metrics again! Customers are overwhelmed with having so many metrics to look at, that they get paralyzed from buying domains. They don't know whether to look at the Domain Authority or the Trust Flow or Moz Rank or SEMrush Rank or Estibot value or….
All I can say to them is …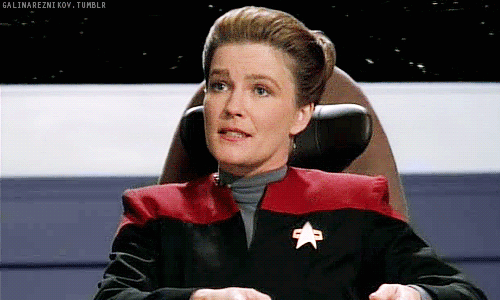 Metrics are useful to help you filter down from a list of 200,000 expiring domains to a list of 20 expired domains. This saves you a  lot of time. However, that is where the usefulness typically ends.
You have to – have to – check the backlinks of a domain before you purchase it. There are no short cuts here.
That said you can definitely use metrics to gauge the spamminess of a domain you are going to purchase.  For a PBN domain you want the TF/CF ratio to be as close to 1 as possible (and higher). Domains with fake backlinks tend to have a TF/CF ratio of < 0.8 and so you may want to stay away from them. Another metric to check for Spam is the Moz Spam Score. The lower the better.
The only metric that I find truly useful is the Majestic Topical Trust Flow Category. This tells you which niche the domain has backlinks from and I strongly urge every customer to try and buy as many niche specific domains as they can for their PBN.
This article should hopefully get you started with buying your first PBN domain. Don't freak out if this is taking longer than you expected or if you are not finding a great domain to start with. Get your PBN started with a "good enough" domain. You can always add more awesome domains to your PBN later.
Carry onto the next chapter in this guide on how to create a massive network while leaving no footprints!