You've probably reached here because you heard someone talk about "catching" an "expired domain" by using a "back ordering service".
If all that sounds like painful jargon, then you've come to the right place.
By the end of this guide, you will know what each of those terms mean, and if I do my job right, be on your way to catching your first expired domain!
Feel free to jump to any specific topic using the table of contents below.
What is a domain backorder?
To backorder a domain is to use a backordering service to acquire an expired domain as soon as it becomes available for registration. The real technical term for a backorder is a drop catch.
Here is the explanation in detail.
Sometimes domain owners forget to renew their registered domain names, and sometimes they let them expire because they either do not need the domain or maybe the business has shut down.
In such cases, when the owner does not renew the domain, he has a short grace period during which the registrar let's him renew the domain.  This is generally a 30 day grace period, during which the owner can still renew the domain at a higher price.
Once this grace period ends, the domain enter a "Pending Delete" state, which lasts typically for 5 days. During these 5 days, neither can the original owner renew the domain, nor can anyone else purchase it. After 5 days, this pending delete domain finally expires, and is made available to the general public.
As soon as the domain is made available, many services try and catch this domain. Since the domain can be purchased based on a first come first basis, there is intense competition to buy valuable domains. The services that try to get these domains on behalf of their customers are called "domain backordering services" and the process of buying the domain as soon as it is made available is called "catching the dropped domain".
Why should we backorder domain names?
New customers for DomCop are always advised to start with back-ordering domains. This is the easiest (and a decently cheap) way to get your first few valuable expired domain names.
Backordering services (like NameJet & SnapNames) take a small fee from the user and for this fee try to register a domain as soon as the registry makes the domain available. The process of trying to register a domain as soon as possible is called "catching" and the term to register expired domains is therefore called "drop catching".
A back-ordering service does not guarantee that they will be able to acquire the domain for you. Since multiple services can try and register the domain, it is possible that the service you use is not able to catch the domain for you. However, if the service is unable to acquire the domain for you, then the fee is fully refunded.
Can I compete with the domain backorder services?
Can you compete? Yes. Of course.
Will you be successful? Very unlikely, unless this is a domain that no one else cares for.
Every registry gives a fixed number of connections to a single registrar for domain purchasing. Unless you are a registrar, you will need to go through a registrar to purchase a domain. To drop catch a domain you are therefore sharing this fixed number of connection with all the other customers of that registrar, making the chance of getting the domain very small.
To add insult to injury, some services like DropCatch.com have 750+ registrars.
You really cannot manually compete with a back-ordering service!
Where does a drop fit in a domain lifecycle?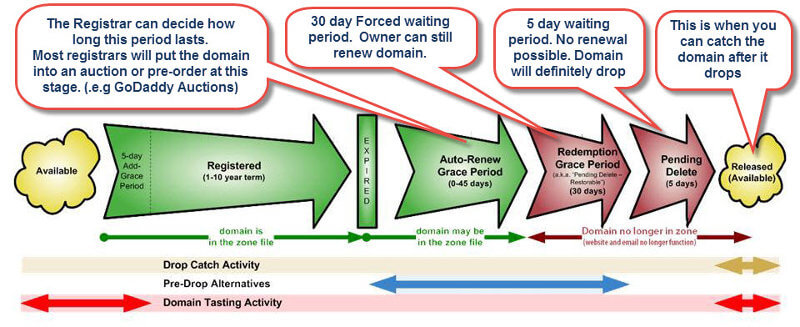 The above image has been taken from the Icann website with a few addons by us
How to backorder a domain?
To backorder a domain you need to use a domain backordering service. These are services that have direct connections to the registries for specific domain extensions.
You simply enter a domain name with these services and they monitor the backordered domain names and when it drops, they try to acquire the domain name as soon as possible for you. Since they have direct connections to the registries, they are extremely efficient at drop catching domains and charge a fee per catch.
Where can I place a domain name backorder? – Pricing updated on August 10th, 2023
Tips & Tricks for better domain backorders?
Since a back ordering service only charges you if they are able to catch the domain for you, you can setup backorders for the same domain with multiple back ordering services. Doing this, you improve the chances of catching the domain and since you only pay the fee for a single service, there is no cost of doing this
If multiple users place a backorder for a domain name, and if the back-ordering service catches the domain, then the backorder service often places this domain in a private auction either between the multiple users who placed the backorder or in a public auction. This can drive the cost of acquiring a good domain into the thousands of dollars. To avoid this, try and place a backorder only when there is very little time left for the domain to drop
Further Reading – Additional Resources