Buy DynaDot Auction Domains with High Trust Flow
Domain list showing all DynaDot auction domains that have a high Majestic Trust Flow
The DynaDot expired auctions are very similar to the GoDaddy expired auctions - before an expired domain enters the Pending Delete state, DynaDot puts the domain up for auction to its users.
Since the domain is technically in the Renewal Grace Period, the original owner could still renew the domain. However, if the original owner does not renew the domain, the highest bidder gets it within 3-4 days of the auction ending.

.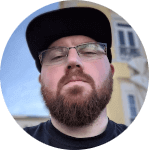 Every single day since 2014 I log onto DomCop.com and look for valuable expiring domain names. Literally. I've found so many great domains there that I've either put into my domain investing portfolio, built on and created a revenue generating site that I later sold, or used in my efforts to create other valuable websites. I cannot recommend this tool enough--it is robust and powerful, and I easily filter out the thousands of terrible expiring names to consistently find the diamonds.
Sean Markey, Rank Theory
United States