Buy PBN Domains - Expired Domains for Private Blog Networks (PBN)
Domain list showing all domains that have TF > 15, TF/CF ratio > 0.8 and Indexed by Google
The domain table shows expired domains that have Trust Flow of 15+, A TF/CF ratio > 0.8, are indexed by Google and are available for under $300. This is the search metric used by most SEOs who have created their own Private Blog Networks (PBN).
Apart from Trust Flow (TF), many SEOs also look at the Moz Domain Authority (DA). However, at the end of the day it is the link equity that a PBN domain has that matters the most. Make sure to follow the steps below before you buy a domain for your PBN
1. Check domain backlinks. Look through the backlinks that the domain has from Majestic and Moz. You are looking for authoritative linking domains in the same industry as the expired domain and you are also looking for spammy sites.
2. Look at the Anchor text diversity. If you find any spammy keywords or foreign keywords in the anchor text, the domain could have been spammed in the past.
3. Check the website history by looking at the Wayback Archive and Screenshots.com. If the last website looks spammy, you want to avoid the domain.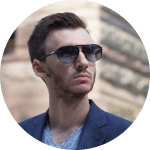 Since starting SEO back in 2009, it has become very difficult to rank brand new domains. Unless you are building a brand, it's highly recommended that you start every new money site with an expired domain. Additionally, if you're building a PBN, you should only consider using expired domains. The problem is good domains start at $50 a piece, and anyone charging less is either full of sh*t or selling garbage domains, and I mean that. If it sounds too good to be true, it probably is. DomCop has a great offer that all of you buying expired domains should consider. For the price of a couple domain names, you can use DomCop for a month, snag some excellent domain names, which would otherwise cost you thousands of dollars. If you're considering expired domain software and don't have the knowledge to program your own crawler, I'd lean towards DomCop.
Josh MacDonald
United States