Buy GoDaddy Expired Domains with High Trust Flow from the GoDaddy Expiring Domains & Closeout Auctions
Domain list showing all domains in the GoDaddy Auctions (TDNAM) that have a High Majestic Trust Flow
The "GoDaddy Expired Domains (TF)" common search lists the domains that have a Trust Flow of 15 or more from the GoDaddy auction website. Clicking on the domain will take you straight to the auction where you can bid or buy the domain. These domains can be of the following categories:
10 day public expiring domain auction: These are the normal expiring domain auctions. The domains go through a 10 day bidding process. The highest bid at the end of the auction wins.
Closeout domain: If a public expiring domain auction has not received any bids over the 10 days, it then goes through a 5 day reverse auction process. At this point this is a closeout domain auction and you can purchase it at any time at a fixed price. The domain starts at $11 for 24 hours. If no one has purchased it, it then falls to $10 for the next 24 hours and so on till it is $5. If no one purchases the domain at $5, it then is released into the available pool. Note that you need to pay the normal domain registration fee in addition to the bid amount for closeout domains.
Offer/Counter Offer: These are domains that have been listed by the sellers for auction. These are not expiring domains - therefore quite a few of these domains never end up being sold. The seller has an option to not sell unless he receives a bid he wants. We suggest you simply ignore these domains. In the Simple or Advanced search screen, you can disable this from the "Listing Types" widget.
Offer/Counter Offer with a Buy Now: These are offer/counter offer domains where the seller has selected a price at which he has promised to sell the domain. These can be directly purchased by paying the Buy Now price or can be bid upon.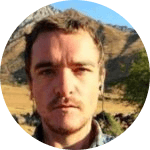 There wasn't a website which would give me all the information I wanted until I came across DomCop. DomCop is a real timesaver for me as everything is in one place and I have no reason to spend a long time trying to find high value expiring domains anymore.
Lee Hughes
New Zealand