Buy old expired domains with awesome backlinks and great metrics (DR, TF, DA)
Domains with Moz Domain Authority (DA) > 15
Majestic Trust Flow (TF) > 15
The domain table above shows expired domains with a minimum Moz Domain Authority of 15, a minimum Majestic Trust Flow of 15. You can change these settings by clicking on either the Simple or Advanced search options at the top.
Moz & Majestic are two of the top backlink providers in the Industry. While neither of them has a database as huge as Google does, together they can give you quite a comprehensive view of the domain's link equity. These three metrics help you gauge the quality of the backlinks to the domain.
While it is easy to manipulate the metrics for any one of them, it is a lot more difficult to manipulate all three metrics. We therefore advise domainers and SEOs to look at all three metrics before purchasing a domain. If any one metric is suspiciously low, you should take a detailed look at the backlink profile to find out if there is any link manipulation involved.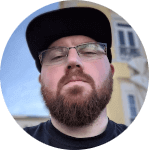 Every single day since 2014 I log onto DomCop.com and look for valuable expiring domain names. Literally. I've found so many great domains there that I've either put into my domain investing portfolio, built on and created a revenue generating site that I later sold, or used in my efforts to create other valuable websites. I cannot recommend this tool enough--it is robust and powerful, and I easily filter out the thousands of terrible expiring names to consistently find the diamonds.
Sean Markey, Rank Theory
United States