We've finished migrating to our new payment gateway - FastSpring. Everything is working as expected. However, if you run into any payment/subscription issues please email us directly at support@domcop.com.
Buy old expired domains with awesome backlinks and great metrics (DR, TF, DA)
Domains with Moz Domain Authority (DA) > 15
Majestic Trust Flow (TF) > 15
The domain table above shows expired domains with a minimum Moz Domain Authority of 15, a minimum Majestic Trust Flow of 15. You can change these settings by clicking on either the Simple or Advanced search options at the top.
Moz & Majestic are two of the top backlink providers in the Industry. While neither of them has a database as huge as Google does, together they can give you quite a comprehensive view of the domain's link equity. These three metrics help you gauge the quality of the backlinks to the domain.
While it is easy to manipulate the metrics for any one of them, it is a lot more difficult to manipulate all three metrics. We therefore advise domainers and SEOs to look at all three metrics before purchasing a domain. If any one metric is suspiciously low, you should take a detailed look at the backlink profile to find out if there is any link manipulation involved.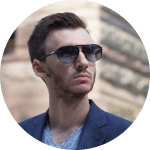 Since starting SEO back in 2009, it has become very difficult to rank brand new domains. Unless you are building a brand, it's highly recommended that you start every new money site with an expired domain. Additionally, if you're building a PBN, you should only consider using expired domains. The problem is good domains start at $50 a piece, and anyone charging less is either full of sh*t or selling garbage domains, and I mean that. If it sounds too good to be true, it probably is. DomCop has a great offer that all of you buying expired domains should consider. For the price of a couple domain names, you can use DomCop for a month, snag some excellent domain names, which would otherwise cost you thousands of dollars. If you're considering expired domain software and don't have the knowledge to program your own crawler, I'd lean towards DomCop.
Josh MacDonald
United States