Buy Expired Domain Names with Traffic
Expired Domain List showing all domains with high monthly traffic
The domain table above shows expiring domains that receive search traffic from the search engines. SEMrush publishes search metrics for all domains and these metrics are the best metrics for search traffic in the Industry.What you can do with expired domains with traffic -
1. Redirect it to your money site. This will ensure that you get all the traffic straight to your money site where you can then convert the traffic. Another benefit is that all the link juice of the expired domain will automatically be sent to your money site helping it in the SERPs
2. Setup a new site on the domain. This involves lot more work, but can reap you rich rewards over the long run. You create very similar content to what existed before (make sure the new URLs match the old ones) and host the website. This ensures that the traffic and incoming links remain stable over the long run.
3. Park the domain. This is the easiest method since you don't need to host the website or create any content and might be profitable if the expired domain gets traffic from US, UK, CA or AU. You basically park the domain at any registar that allow domain parking and make money off the ads.

Note that it's better to purchase expiring domains for traffic since they will still be indexed by the search engines.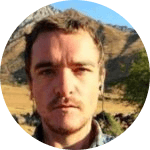 There wasn't a website which would give me all the information I wanted until I came across DomCop. DomCop is a real timesaver for me as everything is in one place and I have no reason to spend a long time trying to find high value expiring domains anymore.
Lee Hughes
New Zealand